eCheck Casinos Deposits
eCheck casino deposits are an easy way to fund your online casino account. As the name suggests, an eCheck is simply an electronic check that you send to an online cashier. The main difference between an eCheck and a traditional check is that you can skip having to buy postage and mail the funds in. You can also cut days off of the amount of time that it would take for the check to be applied to your account, as there is no need to wait for the check to arrive in the mail and be processed. As simple and easy as it is to make eCheck casino deposits, you will not find this deposit option widely accepted at online casino sites. Many casinos now offer other electronic funding options to give players the fastest casino payouts and deposits.
We can still help you find an online casino that accepts eCheck deposits. There are some casinos that accept only non-US players, and others that accept players worldwide. Either way, there is an eCheck casino that you can use to make deposits. Aside from banking, we will also give you information on the casino bonuses and games that these sites offer in our reviews of eCheck casinos.
How To Make eCheck Casino Deposits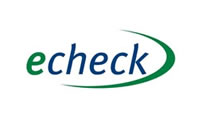 The process for making eCheck casino deposits is very straightforward. When you visit the online casino, you will need to provide your account number, routing number, bank name, and any of the other typical information that is found on a paper check. When you press submit, the online cashier will process the check and once it clears, the funds will be credited to your online casino account. eChecks are processed faster than traditional checks, with most clearing within a couple days.
Can US Players Make eCheck Casino Deposits?
US players can make eCheck casino deposits, but you will not find many sites that offer the option. Though eChecks are completely legal, it can sometimes be difficult getting your financial institution to approve the funds transfer. As a result, many eCheck deposits will not clear. This is not always the case but you should be aware of any pitfalls before choosing this particular deposit method. If your eCheck does go through, then, by all means, continue to use this deposit method. If not, there are other casino deposit options to choose from that are also transmitted electronically.
Casinos That Accept eCheck Casino Deposits
eCheck Casino Deposits FAQ's
Are eCheck Casino Deposits Safe?
eCheck casino deposits are safe, being that checks are a legal payment method in the US and abroad. The fact that your money is going directly from your bank account to that of another legitimate bank account should give you peace of mind. Writing an eCheck to an online casino is no different than writing a check to your landlord. It is perhaps even safer, as the entire online transaction is encrypted.
Are There Fees For eCheck Casino Deposits?
There are typically no fees for eCheck casino deposits, though this will ultimately depend upon the casino site. If there are any fees, you can expect them to be minimal compared to the maximum amount that you will be allowed to deposit. All of the sites that we suggest for eCheck casino deposits will either cover fees for deposits over a certain amount, or offer free eCheck deposits.
Can I Still Redeem Casino Bonuses If I Make An eCheck Deposit?
If you make eCheck casino deposits, you can still claim bonuses and rewards. The bonuses offered at online casinos are huge, especially for first-time deposits. You can get your deposit matched by 100% or more and the bonus funds will be credited instantly. There are bonuses that can be used on slots and bonuses that can be used on table games. Some sites will allow bonuses to be used on all games in the casino, or on specific titles that they want players to try. Keep an eye for casino bonus codes, free chips and free spins for even more opportunities to play!